Hello Voyagers!
Back in July 2019, we posted daily facts about Lady Jane Grey to mark each day of her brief 1553 reign as Queen and to stimulate your appetite for our world premiere performance of Arnold Rosner's 1984 opera, The Chronicle of Nine:The Tragedy of Queen Jane. We were thrilled to bring this lost voice to the spotlight. Here is a recap of the some of the facts we dug up!
FACT 1:
July 10th in 1553 a most extraordinary period in history began. Lady Jane Grey, the eldest daughter of Henry Grey, First Duke of Suffolk, was made Queen of England and Ireland following the death of Edward VI. An account of the 16-year-old's coronation was made by London undertaker Henry Machyn. "The following day [July 10th] queen Jane was received into the Tower [of London] with a great company of lords and nobles… after the queen, and the duchess of Suffolk her mother, bearing her train, with many ladies, and there was a firing of guns and chamber such as has not often been seen, between 4 and 5 o'clock; by 6 o'clock began the proclamation on the same afternoon of Queen Jane, with two heralds and a trumpet blowing, declaring that Lady Mary was unlawfully begotten, and so went through Cheapside to Fleet Street, proclaiming Queen Jane." On that auspicious date, of course, it wasn't known how the controversy surrounding her accession to the throne would impact her rule.
FACT 2:
Lady Jane Grey was the great-granddaughter of Henry VII, being born to Henry Grey, First Duke of Suffolk, and his wife, Frances. She was also a first cousin once removed to her predecessor, Edward VI. Edward died on the throne at age 15 after five years of rule, having nominated Jane and her male heirs as successors to the Crown in his will made only days earlier. Sixteen-year-old Jane was wedded to eighteen-year-old Lord Guildford Dudley only about six weeks before Edward VI's death in 1553, and they resided in the Tower of London during her reign. In the greyscale image seen here, "The Crown Offered to Lady Jane Grey", an 1827 engraving made after Romantic era painter Charles Robert Leslie's painting, "Lady Jane Grey Prevailed on to Accept the Crown" (seen here in the color image), which exhibited in 1827, we see an historical interpretation of Lord Guildford Dudley persuading Jane to accept what is written in Edward's will, Edward's signature seen just at the bottom of the document.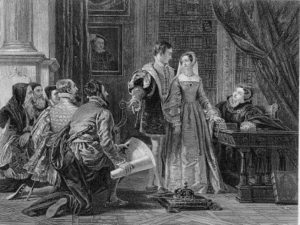 FACT 3:
Jane was fortunate to have been born into a noble Protestant household. Her father, Henry Grey, First Duke of Suffolk, ensured she received the highest quality, humanist education, which included studies of rhetoric, theology, moral and natural philosophy, logic and history. Her studies with English bishop John Aylmer included Hebrew, Greek and Latin, and she read many ancient Greek and Roman works, including those by Cicero, Livy, Aristotle and Plato. Aylmer's approach emphasized the need to study all texts in their original language instead of translations. Italian was learned under the tutelage of converted Franciscan friar and Jane's chaplain, Michelangelo Florio. Her education provided her the skills to read, write, speak and operate in a world of international trade and travel. Given the literacy rate for females in mid-16th Century England is estimated to be 5%, Lady Jane Grey would have been well prepared by age 16 for life as nobleman's wife—and Queen.

FACT 4:
During the Tudor period (1485-1603), portraiture served multiple functions. Portraits captured an artistic likeness and mood of an individual, and conveyed the status, wealth, power and influence of that person to the viewer. It has been long assumed that, among the members of the House of Tudor, Lady Jane Grey is the only English monarch—legitimate or otherwise—without an extant, contemporary portrait. An un-dated, un-attributed oil painting believed to date from the 1590s hangs in the National Portrait Gallery, London. The so-called "Streatham portrait"—named for the Streatham district in south London where the work was discovered in a collector's possession—is considered by some to be a possible copy of a portrait of Lady Jane, showing a woman in mid-16th Century fashion with girdle book and the inscription, "Lady Iayne". Historian David Starkey identifies a two-centimeter miniature with the inscription "Ano XVIII" at the Yale Center for British Art as a possible image of Lady Jane.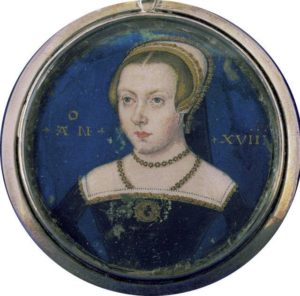 FACT 5:
Queen Jane of England and Ireland's predecessor, Edward VI (born to Henry VIII and Jane Seymour), was England's first monarch to be raised Protestant. During January 1553, Edward fell ill with a fever and cough that gradually worsened. When his disease was identified as terminal, he and his Council drew up a "Devise for the Succession", to exclude his half-sisters, Mary and Elizabeth, and prevent the country's return to Catholicism. The draft will served as the basis for the letters patent which declared his first cousin once removed, Lady Jane Grey, successor to the Crown. In the fourth line, one can see Edward has changed "L Janes heires masles" to "L Jane and her heires masles".

FACT 6:
Arnold Rosner completed his first opera, The Chronicle of Nine, in 1984. The librettist of the work, Florence Stevenson, may be recognized by some Voyagers as she is most well-known as an author in the horror, historical romance and Gothic fiction genres. Writing under her birth name as well as the pseudonyms Zandra Colt, Lucia Curzon, Zabrina Faire, Ellen Fitzgerald, and Pamela Frazier, Stevenson produced more than 50 books from the mid-1960s through the early 1990s. Interestingly, one of her very first works, Aïda, produced in collaboration with the The Metropolitan Opera Guild, adapts Giuseppe Verdi's opera of the same name for juvenile readers. Her libretto, The Chronicle of Nine, is based on her stage play of the same name and offers a forthright dramatization of the events surrounding Lady Jane Grey's brief, nine-day reign as Queen. The four orchestral sections of the opera form Rosner's 1982 work, Symphony No. 7, The Tragedy of Queen Jane.
FACT 7:
Last year, archaeologists from the University of Leicester announced that evidence of stone structures believed to be part of the original home of Lady Jane Grey have been uncovered beneath the ruin of her family's estate, Bradgate House, in Bradgate Park, Leicestershire, England. It is believed the home is the birthplace of Lady Jane, which the Grey family occupied for 220 years, beginning in 1520 when Thomas Grey, Second marquis of Dorset, completed the first Bradgate House. Academics believe the identified structural remnants are more likely to be those Lady Jane Grey would have occupied rather than the extant ruins. After Lady Jane's 1553 accession to the Crown, support for her Catholic cousin, Mary, grew rapidly, and the Privy Council of England hastily changed sides, declaring Mary as Queen only nine days after Jane's proclamation and coronation. Jane was charged with high treason, as were her husband, two of his brothers, and her father. Local history claims Bradgate House groundskeepers marked the occasion of Jane's 1554 execution and that of her father by pollarding the estate's oak trees in symbolic beheadings.

FACT 8:
After the reversal of the Privy Council of England and the declaration of Edward VI's half-sister, Mary, as Queen, Jane, her husband Lord Guildford Dudley, two of her husband's brothers and her father were arrested and charged with high treason. Jane and her husband remained in the Tower of London, a collection of fortified structures, where they had lived throughout her brief reign but now they were imprisoned, kept in separate quarters under lock and key. Guildford Dudley and his brothers were held in Beauchamp Tower, one of 13 towers which punctuate the 13th Century curtain wall. In a room on the first floor of this tower are carved stone graffiti made by those jailed there. It is believed Guildford Dudley, and possibly his brothers, is responsible for the carvings of the name "Jane" which can be viewed by visitors today.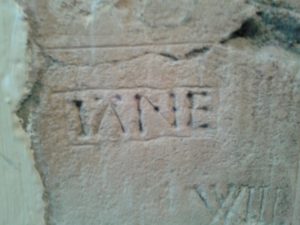 FACT 9:
We were glad to welcome Megan Pachecano, Soprano, in her return to Odyssey Opera in February 2020 when she sang the role of Lady Jane Grey in the world premiere of Arnold Rosner's opera The Chronicle of Nine. Some Voyagers may remember her debut with the company as Anne Page in our British Invasion Festival staging of Ralph Vaughan Williams's Sir John in Love. The Boston Musical Intelligencer remarked of her performance, "The two lovers—Anne Page (Megan Pachecano) and Fenton (Samuel Levine) were warm, funny, and passionate by turns, soaring in elegant lyricism."