Odyssey Opera is pleased to present Mario Castelnuovo-Tedesco's The Importance of Being Earnest.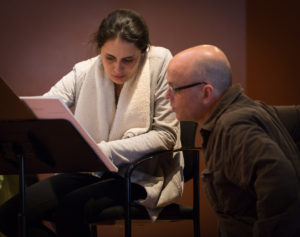 Castelnuovo-Tedesco (1895-1968), a composer whose works have been sadly under represented, composed orchestral, chamber and solo works during his prolific lifetime. He also wrote several operas, including a setting of Saul, which was never performed.
The Importance of Being Earnest, set for two pianos, percussion and singers was composed in 1961-2. It was never published. But it was performed twice. The premiere in Monte Carlo (1972 in Italian) and in La Guardia, NY (1975). We were able to obtain the manuscript from the Library of Congress with the permission of the composer's Granddaughter, and have since embarked on a remarkable journey of discovery.
The play, by Oscar Wilde, makes for a charming opera. Complete with larger than life characters, inevitable misunderstandings, witty dialogue and over the top romance. Castelnuovo-Tedesco's setting is both intuitively sensitive and wildly comic. His choice of orchestration not only suits the intimate nature of the play, but also frames Wilde's sophisticated text in a way that is both supportive and transparent.
We are now in our second week of staging, and find ourselves completely delighted by his compositional skill. It is filled with musical quotes at every turn, which are skillfully woven into the fabric of this iconic story in the most wonderful and unexpected ways.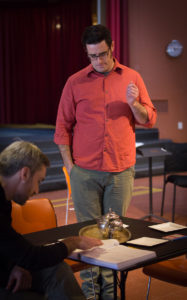 Lady Bracknell's entrance heralded by the Ride of the Walkures.
The taciturn Reverend Doctor Chasuble accompanied by Johann Sebastian Bach's Wachet auf.
The young ladies Gwendolen and Cecily competing to music from The Barber of Seville.
The young men seducing with the Serenade from Don Giovianni, then are ultimately foiled by their tune.
The Flight of the Bumblebee, inserted into the most heated arguments.
And this is just a small sampling; some appearing in an obvious way, while others are woven deeper into the fabric of the musical structure by using a foreground or background technique. All embedded in a score that is both dramatically compelling and vocally superb. A display of both compositional and artistic virtuosity sure to captivate.
This work represents all that is best about Odyssey Opera. Performing under represented works that deserve to be celebrated by both our artists and audiences. And the very nature of this setting, eminently performable and enjoyable, deserves a place in the operatic canon. It is an evening not to be missed in Boston this coming March 17 and 18 at the Wimberly Theatre.