STEPHANIE KACOYANIS
CONTRALTO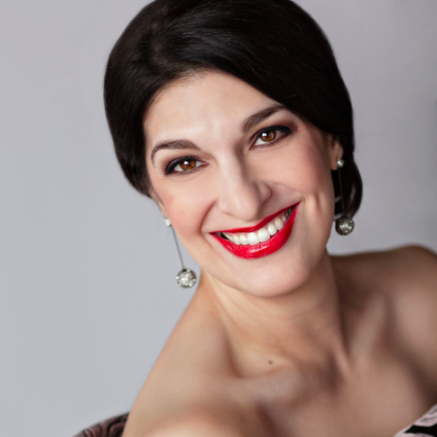 Hailed as a "powerful dramatic and vocal presence" (American Record Guide), contralto Stephanie Kacoyanis has been praised for her "dark, majestic tone" (ArtsFuse) and "vocal brilliance" (Boston Musical Intelligencer). She has distinguished herself across the operatic, oratorio, and contemporary repertoire.
Ms. Kacoyanis last appeared with Odyssey Opera in 2020 as Queen Mary in the world premiere of Arnold Rosner's The Chronicle of Nine. Of her performance, The Boston Globe said she "scorched the stage" and delivered "the standout moment of the evening."
A founding core member of the Lorelei Ensemble, a chamber ensemble dedicated to new and early music for women's voices, Ms. Kacoyanis appears with them during the 2022-2023 season in performances with the Boston Symphony, Nashville Symphony, Chicago Symphony, and San Francisco Symphony Orchestras premiering Pulitzer Prize-winning composer Julia Wolfe's Her Story. Her Story was commissioned for Lorelei and symphony orchestra to commemorate the centennial of the 1920 ratification of the 19th Amendment, which granted women the right to vote.
Ms. Kacoyanis, a champion of contemporary music,  has performed in several world and North American premieres with organizations including the Tanglewood Festival of Contemporary Music, Boston Modern Orchestra Project, Intermezzo Opera, and ALEA III. Her concert work includes solo appearances with the Falmouth Chamber Players, Chorus North Shore, Canto Armonico (under Simon Carrington), Newton Choral Society, and Metropolitan Chorale of Brookline. Her opera roles include Nancy in Martha (Boston Midsummer Opera), Meg Page in The Merry Wives of Windsor (Boston Midsummer Opera), soloist in Four Poems of St. Teresa of Avila (Odyssey Opera), Saint Cecilia in Four Saints in Three Acts (Boston Modern Orchestra Project), and Lucy Steele in the world premiere of Sense and Sensibility: The Musical (Wellesley Summer Theatre). 
Ms. Kacoyanis holds degrees from Wellesley College (B.A.) and Boston University (M.M.). www.stephaniekacoyanis.com